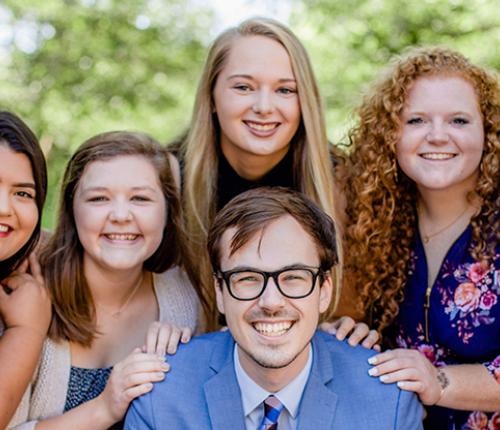 Student Government Association
Mission Statement: As members of SGA, we strive to unite the students of Sterling College in their pursuit of Christ, academia, and community.
Vision Statement: To endorse an atmosphere on campus conducive to growth, servant leadership, and memorable experiences.
SGA Members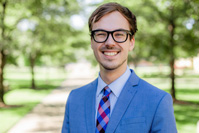 Adam Moore, President: "My name is Adam Moore and I'm the President of SGA! You might also see me as the RA of Douglas Y, a member of the Debate and Forensics Team, or in theatre productions! In my free time I love to talk and read about politics (Vote in 2020!), I work at Sterling High School as the Assistant Debate and Forensics Coach, and I have a slight coffee addiction. I'm so unbelievably excited to be in SGA this year and make real change to the way we operate in an increasingly technology driven time. Feel free to stop by to talk to me about clubs, plan out events, or show me pictures of dogs (because corgis never get old). #PeoplesPresident"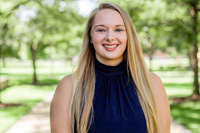 Mayda Stallbaumer, Vice President: "Hi! My name is Mayda Stallbaumer and I am a senior here at Sterling College. I am majoring in History with a minor in Political Science. This year I am so excited to be serving the students of Sterling College as the Vice President of SGA. I am also a member of the Women's Basketball Team here at Sterling. Some fun facts about me are that I am the oldest of four siblings and my hometown is Centralia, Kansas. The past two summers I have interned on Capitol Hill in Washington D.C. and for Eisenhower's Presidential Library and Museum. My favorite flavor of ice cream is birthday cake and my favorite topic in history is World War II."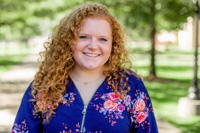 Red Tawater, Secretary: "Hi! My name is Kaitlyn Tawater, but everyone knows me as Red. I am a senior here at Sterling College. I am a Health Science pre-Occupational therapy major with a minor in Psychology. I am so ready to serve you all as SGA Secretary this year. My main focus this year is to make Homecoming a time to remember for everyone. I am originally from Houston, TX and I came to Sterling to play softball but after my freshman year the Lord called me to step away from that to better serve those around me. My favorite color is red, OF COURSE! I love dogs and eating pizza with friends! I cant wait to serve y'all this year!"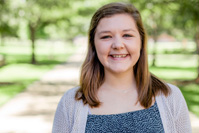 Julianne Duree, Treasurer: "My name is Julianne Duree and I am a senior here at Sterling College. This is my first full year at SC! I am studying Business Administration with a concentration in Entrepreneurship. I am thrilled to be working as the Executive Treasurer for SGA this year. I have two older sisters and a younger brother who plays football here at SC! I am a Kansan through and through, being a native from Hutchinson. This past summer I had the amazing opportunity to live and serve at a children's day camp over in Richmond, CA! California holds such a special place in my heart and I cannot wait to see if I make it back out there. After the camp was over, I journeyed up to Canada and then came back down the west coast. I am in love with the coasts pine trees and cold ocean waves. In addition, if you talk to me about cats and or coffee I guarantee we'll become fast friends!"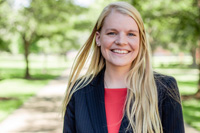 Saige Biedenbender, Office Manager: Hello! My name is Saige Biedenbender. I am a senior this year at Sterling College. My major is photography and graphic design with a minor in business marketing. This year I am so excited to be part of an amazing SGA team and to serve the students as the SGA Office Manager! I am also a visit assistant for Admissions this year! Some fun facts about me are that I am the oldest of four kids; I have two sisters and a brother. I am from Westmoreland, KS but I was born in Wray, CO. I would take a hot summer day over any day below 60 degrees. I love helping others in any way I can. I am also engaged!"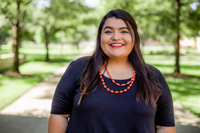 Patty Davila, Director of Campus Activities: "Hello! My name is Patty Davila. I am a senior at Sterling College. I majoring in clinical psychology and minoring in art and design. I have been a student ambassador since my freshman year and this year I am a Visits Assistant for admissions. I have really enjoyed being involved in campus the past years, last year I was the Coordinator for the Campus Activity Board and was also tutoring ESL. I am sad that this is my last year at Sterling, but I am also super excited to be working with an amazing team in our Student Government Association as the Director of Campus Activities (DCA). I love getting the opportunity to get the students on campus more involved! I was born in Chicago and lived there for 11 years until we moved to Kansas City. I love the city but my favorite vacation spot is Colorado, I love the mountains and the snow. Last, and most important, my favorite show is The Office ... I am currently on my 15th time around watching it... I am obsessed."
Additional Links