Behavioral Science Projects
Students Reflect on Service Projects
Introduction
Four students in Service Seminar have prepared to participate in service projects this fall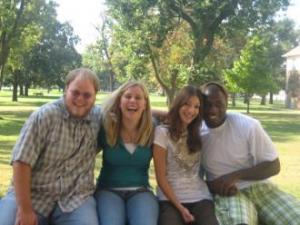 by considering the connections between education and service. The need for such preparation became evident last year. At the end of the semester, students had difficulty stating any causes to which they were committed, or clear rationale for involvement in community efforts to alleviate problems.
Sterling College's mission states that we prepare students for creative and thoughtful leadership, reflecting a maturing Christian faith. That leadership must be grounded in knowledge and commitments. Students must know about problems our local and global communities face. Students must also understand that service commitments arise from Christian faith, larger educational purposes, and professional obligations. Sterling stresses faith commitments, but students may be less aware of the obligations that arise from education and professional development.
To address these issues, students in this year's Service Seminar completed reading and listening assignments, discussed the implications of those assignments for their understanding of service obligations, and wrote an essay about why they should be involved in service projects. Those essays follow the description of the assignments.
Assignments
To prepare for class discussions, students did the following:
Read Chapter 1 in Robert Putnam's book, Bowling Alone. Putnam is a sociologist who describes and analyzes the decline of social capital in our society. Social capital refers to the connections among individuals in a society. It includes norms of reciprocity and engagement in civic activities. Putnam's thesis is that the United States has seen a sharp decline in social capital since a peak in the 1950s.
For 1 week, listened to 30 minutes of NPR news programming each day.
Read a chapter in a publication by the American Association of Colleges and Universities entitled, The Learning Students Need for the 21st Century. This chapter emphases that learning is for both personal success and for a just, democratic society. The chapter establishes the need for knowledge and engagement in civic issues.
Read a brief article on internationalizing psychology education from the American Psychological Association's (APA) Director of Education. This article described the APA's long-standing commitment to international concerns in education.
Read an APA gold medal award description for a member's lifetime contributions to applying psychology in the public interest. This article described Dr. Ray Fowler's work in civil rights activities, prison reform, mental health reform, and mediation among competing factions of professional psychologists.
Read and article about implementation of service learning programs at the University of Utah. This article describes the history of the connection between education and public service in the United States. The author also claims that education needs a new model of service for the 21st century, following the personal focus that education took in the 80s reflecting the "me generation" and rise of individualism.
Here are the students' reflections following these preparation steps.